Design concept
"Art Jewelry "-microcosmic Origin
u
"Breed and Grow
"
- the process from the small world to the big world

XIAO CHUAN ZHANG
Jewelry Artist emerging in China recent years, After graduated from Sculpture Department of Guangzhou Academy of Fine Arts in 2001, she studied costume designing in 2003 and integral design in Staatliche AKADMIE DER BILDENDEN KUNS TE Stuttgart of Germany in 2005. In 2006,she got a Master's Degree specialized in ornament in DOMUS Academy of Milan,Italy. After retuning home,she established "Xiao Chuan Studio"working on art jewelry designing with sculpture and installation,which bestows lives on her works.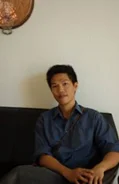 LOU WEN LIANG
Furniture designer and co-creator of "Mr. Dream".
Graduated from Architecture of Journal of South China Construction University (West School) in 2000, he works in Graphic Design and Advertising Communication. In 2005, cooperated with
YATAI Furniture Co., Ltd in designing outdoor furniture and in 2010, he co-created "Mr. Dream". Good at figuring out a tridimensional shape with aesthetic lines and his representative works are Lovebirds, Dream and Fairy.